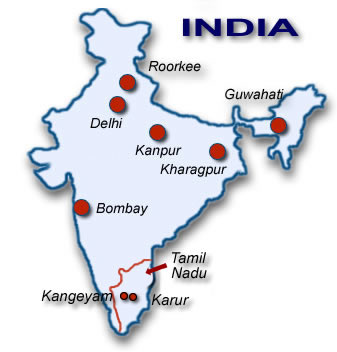 Gemstones and India
India's history is full of gemstones, riches and tremendous wealth. Rumors of India's wealth traveled around the world, and stories of flourishing treasures lured visitors from afar, both invited and uninvited. India's land and resources were so vast that the nation was often referred to as the Golden Bird, with much of their wealth and fame generated from the mining of natural gemstone deposits located throughout India. Since before recorded history, India has been a leading source for precious gems, producing some of the finest gemstones we see on the market today. It has even been said that India may have been the original gemstone source to begin with, though this broad assumption has yet to be proven.

Tamil Nadu

Tamil Nadu is one of India's 28 remarkable states. Covering over 50,000 sq miles, it is the 11th largest state and as of 2012, Tamil Nadu had the 2nd largest state economy in India.

Tamil Nadu intersects with India's infamous gemstone belt, which traverses Eastern and Southern India. Tamil Nadu is home to several large districts and industrial cities, all of which play major economic roles; some of these grand cities are sources for many of the world's finest gems. Gem traders and explorers have long been intrigued with India's numerous gemstone deposits scattered throughout Tamil Nadu.

For centuries now, mining has been a flourishing business in Tamil Nadu and still to this day, Tamil Nadu's gems are being sold, traded and worn all over the world. Not too long ago, a 9.7 kilogram aquamarine mined from Tamil Nadu was sold by Indian entrepreneur, K.C. Pandey, for an astonishing 250,000 Euros to a private museum.

City of Karur

The city of Karur is located within the state of Tamil Nadu and is the main city of Karur District. Karur is one of the oldest cities in Tamil Nadu with a recorded history stretching back over 2000 years. Hindu mythology suggests that Brahma began the process of creation in Karur, which is often referred to as the "Place of the Sacred Cow".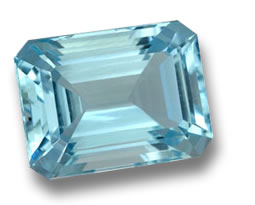 In 1874, Karur overcame British rule and gained its municipality. Over the years, Karur's stance and ranking as a municipality elevated until finally in 1988, Karur earned its title as a special grade municipality. The city of Karur is quite well known for its production of textiles such as linens and wall hangings. What many have now forgotten is that the city of Karur is also a successful exporter of some of the world's finest gemstones.

Karur is known to produce great quality sapphire, moonstone, amethyst, jasper, beryl and aquamarine. The rich gemstone history of Karur was unraveled when archaeologists unearthed ancient gemstone jewelry that was over 2000 years old. It was later revealed that the gemstones embedded in the jewelry were native to the local mines of India.
Karur was an abundant center for trading and has been since the Sangam period. It is even speculated that Karur may possibly have been the world's center for jewelry-making and gem-setting, with the gems being sourced locally and the gold being imported from nearby Rome.

In 2001, the Geological Survey of India provided a summary of gemstones native to Karur and a brief synopsis of the geological conditions in which they were found. In the Karur district, abundant supplies of sapphire, ruby, sillimanite cat's eye, aquamarine, moonstone and garnet were some of the different varieties detailed in their report. All of the gemstone mining territories were dispersed along the granitic terrain of Karur and all the deposits had high grade metapelites and pegmatites, which are ideal conditions found in most mining environments.

City of Kangeyam

Another mentionable city of Tamil Nadu that has been known to produce great gems is the city of Kangeyam. Located in the heart of Tirupur District, Kangeyam is a well known commercial hub, and because of its close proximity to neighboring industrial cities, Kangeyam is a popular center for trade. With most of Kangeyam's trade being focused on agricultural goods and textiles, Kangeyam is not usually recognised as a precious stone supplier. Much of its credited fame is owed to a surplus of mystical moonstone.
Kangeyam is renowned for its abundant primary deposits of moonstone. Moonstone deposits are found in Kangeyam's man-made tunnels and natural underground limestone caves. Miners in Kangeyam have been using the technique known as "host rock mining" to carefully harvest and extract the gems. This technique of mining is used when gem deposits have formed alongside a "host" rock, and in order to free them, one must chip away gently to extract them from their natural surroundings.

The mines in Kangeyam offer more than just moonstone. Several other varieties of precious gems are also native to Kangeyam, such as great quality ruby, spinel and garnet.

Customer Questions

Every month we answer questions of general interest from our customers. Please feel free to send your questions to Help@GemSelect.com.

Q:
I left a review on Bizrate about my shopping experience, but my comments are not showing up on the review site. Do you choose which reviews to show?
A:
Unfortunately, we do not have the ability to pick and choose which reviews are shown on Bizrate.com, but this does prove that the reviews shown are completely unbiased.
The Bizrate review feature is only offered to those who process an order through our secured check-out. Bizrate reviews are part of a 2-step process:

1) Initial feedback can be left after placing an order on our website.

2) Bizrate sends an email after the expected delivery date of an order, which then asks for final feedback to ensure delivery was as expected.

The email they send out to our guests has the subject line:
"Shipping Verification Reminder - Response Requested".
Only full reviews that have been left with after-delivery feedback will be shown on https://bizratesurveys.com/reviews/detail/www.gemselect.com/259953, again ensuring the validity of any and all comments.

Q:
I see the website now has a "Buy it Now button" and it looks like things have changed a little. Can you explain the changes?
A:
We're pleased to have introduced our latest improvements and we're so glad so many of you have already noticed. Our gallery pages now offer 3 options on our website:

Click for Details
Add to Cart
Buy it Now

Not all product details can be shown on the gallery page and some visitors were not clicking through to the detail page to view more details. So, we've made it easier to view additional details with our new link. If something is not disclosed on our details page, please contact us and we'll be pleased to provide more information.

"Add to Cart" and "Buy it Now" were added so that our customers can now have a quick way to check out if they're in a hurry. Just 1 click from our product page and you're already in our shopping cart. For those who want to take advantage of our flat rate combined shipping, they can keep adding unlimited items to their cart using the 'Add to Cart' option and pay only 1 shipping fee when checking out. We hope these new options will make your shopping experience even better than before.
We hope you found this article interesting. If you have any comments or suggestions just drop us a line. We really do read every single email we receive and each email gets a personal response.
Please make sure you can receive email from help@gemselect.com.
Happy gem hunting,
Your friends at GemSelect